Strengthening the voice of London's Gypsies and Travellers to gain recognition, inclusion and equality through community led campaigns
People from the Gypsy and Traveller community can make their voices heard by taking part in our campaigns challenging discrimination and poor policy making. Below are details of recent campaigns. For more information about our current campaigns and how to get involved, please contact Clemmie James cjames@londongandt.org.uk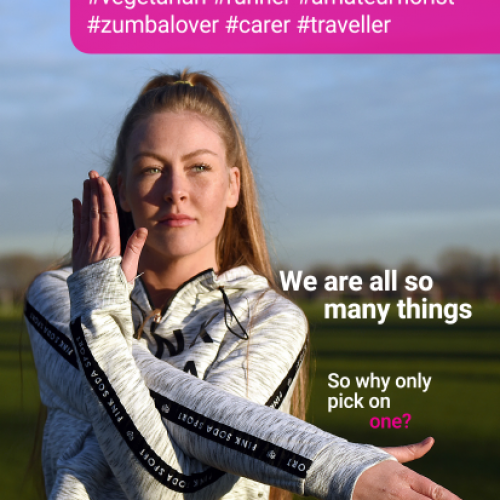 We are all so many things…
LGT's new campaign aims to challenge public perceptions of Gypsies and Travellers, asking why people only ever see their ethnicity, not their worth. The poster and social media campaign demonstrates that the reality of Gypsies and Travellers' lives is a far cry from the caricatured images presented in the news media and television programmes such as My Big Fat Gypsy Wedding.
The campaign centres around five images of Gypsies and Travellers, highlighting the many roles they play in their lives – and asks the question: "We are all so many things… so why only pick on one?"
Romani Gypsies and Irish Travellers are recognised as ethnic groups under the Race Relations Act 1976, and they are protected by the Equality Act 2010. But prejudice and discrimination are still rife, affecting access to services, jobs and accommodation. Negative media coverage increases feelings of isolation.
The LGT campaign aims to present that reality in a striking way and make people consider their reactions.
London Gypsies and Travellers has asked London Mayor Sadiq Khan to publicly support the campaign and the efforts of Gypsies and Travellers in London to challenge prejudice.
It is asking supporters to download and print campaign posters and put them up in local schools, GP surgeries, community centres and cafes.
Download the posters and postcards from our Resources page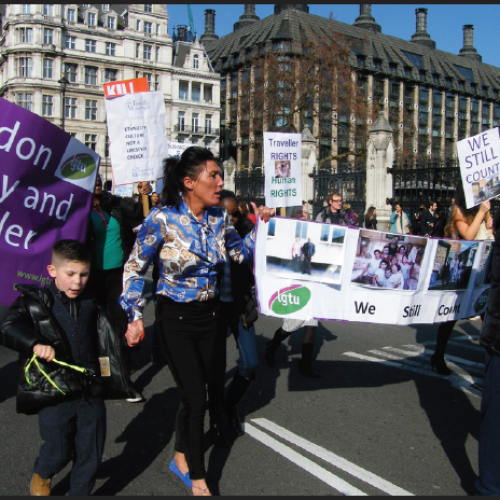 We still count
Our "We still count" campaign started in October 2014 responding to the Government's proposed changes to the definition of Gypsies and Travellers in planning policy. The new definition only included those who could prove they were travelling for work – thus excluding the majority.
Through the use of short films, a dedicated Facebook page and a postcard campaign, we mobilised community members to have their say in the government's consultation.
Phase 2 of the campaign focused on the detrimental changes in the Housing and Planning Bill. We joined a wider coalition of groups in a "Kill the Housing Bill" campaign. This included a London demonstration on 13th March 2016.
London Gypsies and Travellers produced submissions on the proposed changes to planning policy for Traveller sites and presented evidence to the Public Bill Committee on the Housing and Planning Bill.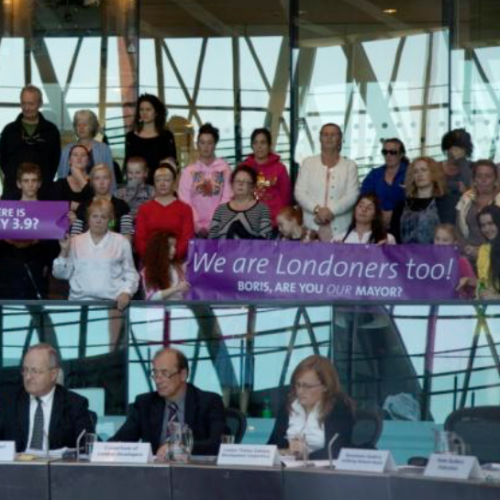 We are Londoners too
The 2004 Housing act required all regional authorities to include the provision of Travellers sites in their strategic plans and to set pitch targets for districts and Boroughs. In 2009, Boris Johnson, Mayor of London, began to consult on a new London Plan and during the process London's Gypsies and Travellers asserted their right to be treated in the same way as any other Londoner in need of secure accommodation.
Engagement started in January 2009 with preliminary consultation before the Mayor's draft London Plan was published in October.
The plan specified Traveller pitch targets for each borough. This followed a Gypsy and Traveller accommodation needs assessment commissioned by the GLA and London Boroughs in 2008, which provided evidence of the need for 811 new pitches. The draft London Plan however gave a lower number of 538, and went out for public consultation in October 2009.
We produced leaflets giving information about the London Plan for Gypsies and Travellers, and postcards to sign and send back to the Mayor.
We held meetings and visited families living in Barking Dagenham, Bromley, Camden, Enfield, Greenwich, Hackney, Haringey, Harrow, Havering, Lewisham, Newham, and Tower Hamlets, encouraging them to write letters to the Mayor saying why more pitches are needed. By January 2010 280 Gypsies and Travellers had written letters or signed postcards.
We provided a response to the London Plan and liaised with other agencies who supported Travellers or who were involved with the London Plan, through the London Gypsy and Traveller Forum (LGTF).
In March 2010, the Mayor excluded the needs of Gypsies and Travellers in houses, stating that priority should be given to those already living on sites. The number of new pitches for London was reduced to 238 – about a quarter of the original assessment of need. We organised more meetings to get feedback from the community on the Mayor's changes, and encouraged more letter writing.
By the end of the second consultation period nearly half of all the responses from the public on the London Plan were from Gypsies and Travellers.
But we were still not being heard. In July 2010 the Mayor said that it should be up to the boroughs to decide if new sites are needed. Gypsies and Travellers agreed that it was now time to protest.
A demonstration, with a silent protest in the public Gallery of City Hall, a rally at City Hall, and a March down Tooley Street, was held on October 11th.  About 80 Gypsies, Travellers and supporters stood in the public gallery in silent protest. The planning inspector acknowledged the protest and allowed a statement to be read out followed by a minute's silence.
The main points made were:
The plan should be based on the evidence of the Accommodation Needs Assessment.

Provision of Traveller sites are a strategic matter for London in the same way as housing is, and needed Borough targets.

It was unlikely borough would respond to the needs of their Traveller constituents without targets.

Travellers living in housing must be included in the need for sites.