The long contribution of Gypsies and Travellers to community life in London has been recognised with a blue plaque, in a Wandsworth street where they lived and worked since Victorian times.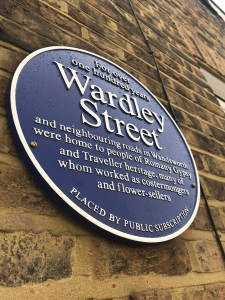 Since the middle of the nineteenth century, Travellers stayed by the river Wandle in Wandsworth, and many settled in a new street called Wardley Street when it was built in 1896. In the decades that followed, censuses showed that they worked here as flower-sellers, hawkers, dealers, general labourers, wood-choppers, cutlery grinders, boot repairers, horse handlers, sawdust dealers and musicians.
The rich history and characters of Wardley Street were uncovered by Geoff Simmons, who runs an award-winning community history project in Wandsworth, and Anna Hoare who previously worked at LGT as a researcher on the Gypsy and Traveller histories project​. They held local presentations and talked to descendants of people who lived in the street – many of whom had been featured and photographed in a magazine article in 1948 (picture below left).
"So many people seemed to have had a relative there and spoke proudly of them and the community they came from," said Geoff Simmons. "When we started commemorating 'forgotten' history in this area through putting up plaques, 'The People of Wardley Street' seemed an obvious contender."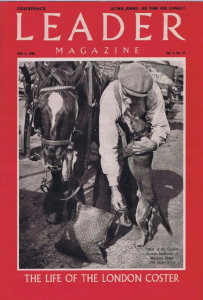 The plaque was unveiled in October, at a ceremony including addresses from Ilinca Diaconescu of LGT, Geoff Simmons and Sarmila Varatharaj, Deputy Mayor of Wandsworth. The blue plaque was unveiled by former residents of Wardley Street.
The ceremony was followed by a presentation from Anna Hoare on further research into the history of the area, and an invitation to take part in a community project to preserve this history permanently.
Tom Margetson, LGT's Community Development Worker, said: "It was fantastic seeing the Romany Gypsy and Traveller community honoured for the first time for its contribution to the city of London with the unveiling of the blue plaque on Wardley Street. It was especially great to see so many people supporting and coming together to celebrate with former residents and descendants of residents."
You can find out more about Wardley Street and its residents at the Summerstown182 blog
More news